Michael Hedges: Live on the Double Planet
---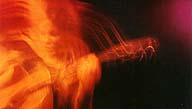 1987, Windham Hill WD-1066
Distilled from concert recordings made at over 40 venues throughout North America, this ambitious project comes close to capturing the legendary essence of a Michael Hedges concert. From rollicking covers to delicate solos to heartfelt original ballads, Michael hand-picked the best performances for this collection.
Michael Hedges: acoustic guitar, vocals, harp-guitar
¹ Michael Manring: fretless bass
All Along the Watchtower
Because It's There
Silent Anticipations
Ready or Not
A Love Bizarre
Breakfast in the Field
Rikki's Shuffle ¹ *
Woman of the World ² **
The Double Planet
The Funky Avocado
Come Together
Two Days Old
* This Hedges composition originally appeared on Michael Manring's Unusual Weather as "Manthing", also as a duet with Manring.
** Audio for this track is taken from the video Windham Hill in Concert.
All songs written and arranged by Michael Hedges except "All Along the Watchtower" by Bob Dylan, "A Love Bizarre" by Sheila E./Prince, and "Come Together" by Lennon/McCartney.
Produced by Michael Hedges. Mixed at the Speech & Hearing Clinic by Michael Hedges.
Recorded live by Hilleary Burgess, April/May 1987, in the U.S. and Canada.
---
« Previous Solo Release | Discography | Following Solo Release »
---