Michael Hedges: Princess Scargo & the Birthday Pumpkin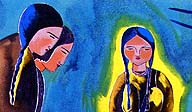 Original CD version: 1993, Rabbit Ears 74041-70740-2
Soundtrack to the children's video with narration by Geena Davis and visuals by Karen Barbour.
Note: The original Rabbit Ears release of this soundtrack included, in addition to the soundtrack itself (narration with accompaniment), "album mixes" of the musical selections that were used in the soundtrack. The soundtrack currently available for sale includes only the narration with accompanying score, but not the music-only section.
Michael Hedges: acoustic and electric guitars, keyboards, flute, tin whistles, bass, percussion, chant vocals
¹ Pipa Piñon–chant vocals
The description below pertains to the original Rabbit Ears release, which is currently not available.
Princess Scargo & the Birthday Pumpkin (narration with music)
Gospel (a different arrangement than appears on Oracle).
Forest Walk
Prelude ¹ *
Water Music ¹
Sister Soul (instrumental version)/Kimberly **
Another Forest Walk
* The arrangement of "Prelude" included here is significantly different than on The Road to Return. "Water Music" is also a variation on the "Prelude" theme.
** "Kimberly" reappears with a different arrangement as "Aura Müünta" on Oracle.
Music composed, arranged, and performed by Michael Hedges.
Music recorded, mixed, and produced by Michael Hedges at the Speech & Hearing Clinic, Mendocino, CA, with assistance by Bryan Lanser.
---
Reviewed by Matt Guthrie
In 1993, Michael recorded his second soundtrack for a children's video by Rabbit Ears Productions, this one titled Princess Scargo & the Birthday Pumpkin. Michael's first soundtrack for Rabbit Ears was 1986's Santabear's First Christmas which incorporated rearranged versions of previously released material plus new music, but it's been out of print for several years and consequently gained a sort of "holy grail" status, if only for the incredible track, "Larry's Instrumental". The Scargo score similarly uses both new and old material.
"Gospel" is the hidden gem and is a significantly different arrangement than later appeared on Oracle. The instrumental is carried by a great uptempo fingerstyle acoustic part backed by bass and a beautifully simple lead line on electric slide. Another curious aspect to this song is the inclusion of an acoustic break which, unless you compare them side by side, you'd swear is a reprise of the boogie section of "Bensusan".
"Forest Walk" is a slow and mellow piece played on what sounds like a 12-string acoustic and alto flute with splashes of bells and synth.
The version of "Prelude" included here is a significantly different arrangement than that on The Road to Return. Pipa Piñon sings chant vocals again and Michael plays drums (the real thing—not synth drums) and various percussion, piano, and bass. The drum part is distinctly Native American in feel and adds a nice drive to the piece. This version has a more open and sparse feel than on R2R.
"Water Music" sounds, well, watery. Pipa Piñon adds chant vocals again with MH on keyboards and bass. It has an extremely slow and dreamlike feel about it. So much so that you might not even notice it's actually another arrangement of "Prelude".
The version of "Sister Soul" included here has a drier sound than on R2R and is curiously played in G rather than Ab as on that album. This is an instrumental version with Michael on acoustic guitar, alto flute, whistles, percussion, piano, and bass.
"Kimberly" is a piece you may have heard live in '91 or '92, linked up back to back with "Sister Soul" here as he played it live then and with his chant vocals.
"Another Forest Walk" is of course a rearrangement of "Forest Walk" with the melody carried on whistle rather than alto flute and a dash of synth. A distinctly Celtic feel.
All in all an interesting collection, but if you're looking for acoustic thrash forget it, although the acoustic fingerstyle fans will like "Gospel".
---
« Previous Soundtrack | Discography
---