Posters
Double Planet Poster
Road to Return Poster
Oracle Poster
---

Double Planet Poster (DOUBLE-P, $10):
Sweeping 36" by 24" full-color graphic featuring a dramatic mid-eighties photograph of Michael in concert with the caption "Michael Hedges: Live on the Double Planet".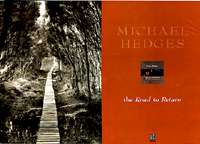 Road to Return Poster (ROAD-P, $10):
Full color, 24" by 17" promotional poster from the 1994 release of the Road to Return CD. Featuring the striking Barbara Colombo photograph found on page 1 of the CD booklet depicting a seemingly endless walkway through a forest.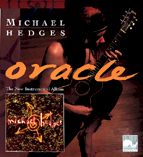 Oracle Poster (ORACLE-P, $10):
Full color 18" x 24" graphic announciing the release of the Oracle CD, featuring the Kim Stringfellow photograph that appeared on the back of the CD booklet of a shirtless, copper-helmeted Michael cradling a beloved old Gibson guitar.
---